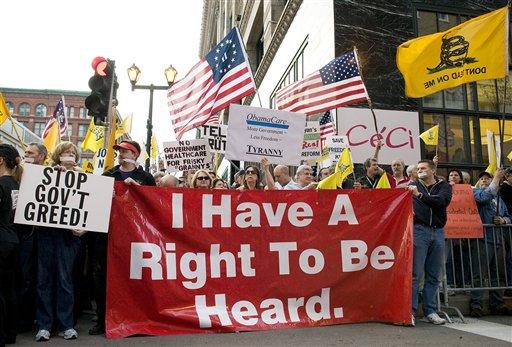 THOSE IN THE HALLS OF AMERICA'S PROGRESSIVE ACADEMIA ARE ALREADY HARD AT WORK TRYING TO WRITE A REVISIONIST HISTORY OF THE MODERN TEA PARTY MOVEMENT. LIKE THEIR PREDECESSORS OF YEARS GONE BY WHO SUCCESSFULLY REWROTE THE HISTORY OF THE CRUSADES, PLACING THE BLAME ON MEDIEVAL CHRISTIANS AND NOT THE MUSLIM INFIDELS WHO SWEPT ACROSS CHRISTIAN LANDS IN THE NAME OF ALLAH KILLING ALMOST ALL CHRISTIANS IN THEIR BLOOD-SOAKED PATH. JUST LIKE THE REVISIONIST HISTORIANS OF YEARS PAST, THE MODERN DAY SCHOLARS OF OUR GREAT UNIVERSITIES ARE HARD AT WORK TRYING TO RE-BRAND WHAT HAS BEEN A GRASS ROOTS MOVEMENT AGAINST BIG GOVERNMENT INTRUSIONS ON OUR EVERYDAY LIVES AS A RACIST RIGHT WING REACTION TO OUR FIRST BLACK PRESIDENT. FOR THOSE WHO SIT IN THE IVY-COVERED TOWERS OF OUR PROGRESSIVE COLLEGES, NOTHING ABSOLUTELY NOTHING REPRESENTS A BIGGER THREAT TO THEIR EXISTING PHILOSOPHY THAN THE VOICES OF THE COMMON MAN. AND THEY WILL DO ANYTHING TO SILENCE THAT DEAFENING ROAR FROM THE PEOPLE INCLUDING REWRITING THE HISTORY OF THE PERIOD. SADLY, AFTER ALL THEY ARE THE ONES WRITING THE BOOKS.
Code for Facebook, Blogs, Websites and Myspace.
Just copy and paste into your site.